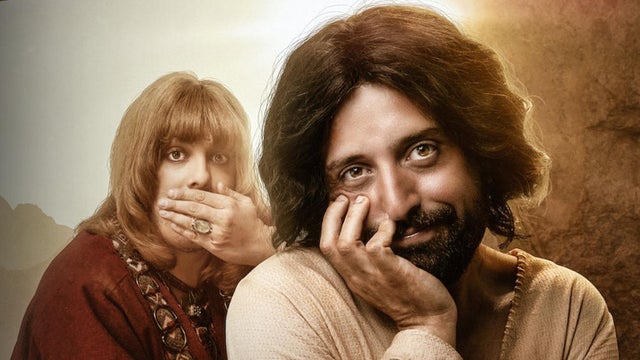 Jesus was a Galilean Jew. His ancestors may have moved from Judea to Galilee some time after Astribolus I annexed Galilee (along with part of Ituria) to the Hasmonian kingdom in 105 bc. Or, his ancestors may have been among those local residents who were circumcised and converted to Judaism.
Galileans may have been more influenced by Greek and Roman cultures and ideas, than were the Judeans. Sepphoris—a primarily Jewish city near Nazareth--had a Roman theater, bath-houses and mosaic floors with human figures. Jesus preached in the Decapolis, which was largely inhabited by the descendants of Gentile Greek settlers.
At the time of Jesus, Judeans recognized Galileans by their hick Aramaic accents, and possibly low levels of concern about some of the details of Jewish observance (for example, the rules of Sabbath rest).
Jesus may have taken this a step further, and, in Mark 7, basically says that you can go ahead and eat meats that were forbidden to Jews (including, presumably, pork). In Matthew 19, Jesus makes the rather astounding statement that "there be eunuchs, which have made themselves eunuchs for the kingdom of heaven's sake." This contrasts sharply with the traditional Jewish teaching of Deuteronomy 23: "He that is wounded in the stones, or hath his privy member cut off, shall not enter into the congregation of the LORD." Jesus must have been giving a nod to the worship of the Phrygian goddess Cybele, which had been incorporated into the state religious practices of Rome, and which included eunuch priests (called gallī).
In intellectual Greek circles, pederasty between a teacher and a pupil was common, and possibly expected. From Plato's Symposium (http://faculty.sgc.edu/rkelley/SYMPOSIUM.pdf): "I know not any greater blessing to a young man who is beginning life than a virtuous lover, or to the lover than a beloved youth."
In Mark 14: "And there followed him a certain young man, having a linen cloth cast about his naked body; and the young men laid hold on him. And he left the linen cloth, and fled from them naked." This was after Jesus' other disciples had already forsaken him and fled, on the morning of his arrest.
The gospel of Mark was originally written in Greek. A great teacher enjoying a night with a naked pupil would not have garnered much attention to a Greek audience. The verse appears more-or-less out of the blue, without further background information or explanation given. It doesn't appear that the author was concerned about covering up something that might arouse the suspicion of pederasty.
Clerical pederasty has been exposed recently as one of the more sordid features of Christianity. Paul was an asexual, and recommended heterosexual marriage for those who absolutely could not contain. In Paul's first letter to Timothy, he states that a church leader should have a wife. Paul's distaste for fornication, effeminacy and "abusers of themselves with mankind" seems contrary to the prevailing attitudes of Hellenistic and Roman culture, which profoundly influenced Jesus.
While Paul would have disapproved, Jesus may have been more of a libertine, and less of a stick-in-the-mud, than that for which he is usually credited. He turned water into wine, and knew how to have a good time. Probably he engaged in at least a bit of pederasty with some of his pupils, without the shame attendant upon modern practitioners who worship him.